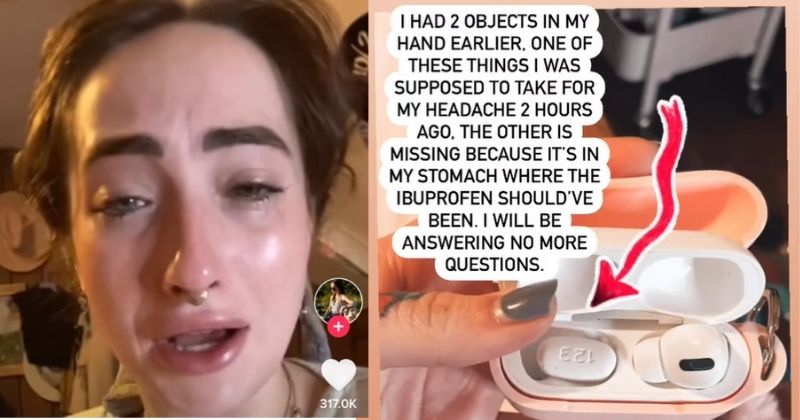 Woman mistakenly swallows AirPod thinking it's a painkiller, now she's fine
A 27-year-old TikToker has now risen to fame after revealing in several posts that she accidentally swallowed her Apple AirPod instead of taking her pain medication, according to a report by The independent one.
Also read: Apple has unveiled Apple AirPods 3, HomePod Mini, and a new voice plan for Apple Music
A professional podcaster named Carli Bellmer said, "Well, I ate my damn left AirPod. I crawled into bed with an Ibuprofen 800 in one hand and my damn AirPod in the other – my left earbud. "
She revealed to her followers that after swallowing, she realized it didn't feel like the pill and even tried to puke it up, but it didn't work. She decided to share this with the world "for educational purposes" as she felt she definitely isn't the first to do this and she won't be the last.
In this series of posts, which she shared with her now over 3,200 followers, she also sent a clip that she had also shared with her friend, which recorded the noises of her stomach wirelessly. "It's weird now, but very scary then," she said
Shortly afterwards, the AirPod went seamlessly out of her stomach. She revealed this with an X-ray copy and said, "An X-ray showed that I passed. I felt like I passed it. I didn't get it, but I know it passed. I know that it was in my stomach and is no longer. "
Also read: Apple introduces new AirPods Max headphones with active noise cancellation for Rs 60k. before
There have been numerous cases of ingesting AirPods in the past – a few months ago in February, Brad Gauthier of Massachusetts swallowed his AirPod in his sleep and when he woke up he was unable to breathe properly. Doctors eventually had to do an emergency endoscopy to remove the tube from his esophagus. Brad did not suffer any major or life-threatening injuries, however.
Check out the video below:
Read on at Indiatimes.com for the latest in science and technology.