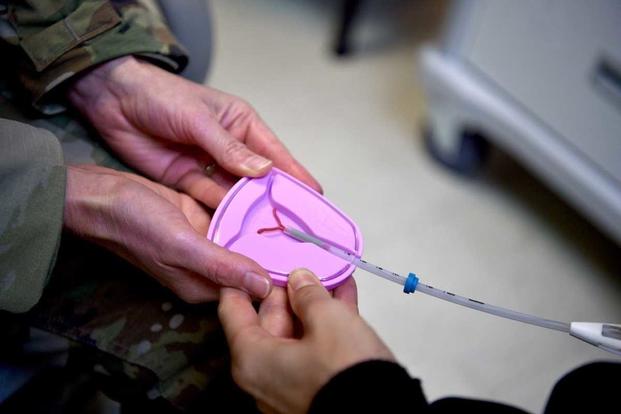 VA wants to give more vets access to infertility treatments, drop contraception co-payments
The Department of Veterans Affairs wants to make it easier for some veterans to receive fertility services and reduce prescription birth control co-payments beginning next fiscal year under its 2023 budget.
The VA's proposed budget calls for legislation that would allow the department to expand a program that offers advanced fertility treatments, including in vitro fertilization, or IVF, to seriously injured veterans by including singles or in a same-sex relationship.
The department has also asked that treatment be allowed for seriously injured veterans who need donor sperm or eggs or who need a surrogate to have children. And it's pursuing the ability to reimburse adoption expenses for eligible veterans.
Continue reading: Army top general McConville tests positive for COVID-19
VA officials said the legislation and associated $10.5 million funding request for 2023 would "fill the gap created by statutory requirements, exclusions and limitations in VA's current program," according to the proposal. .
Since 2016, the VA has paid for in vitro fertilization and other infertility treatments for veterans whose infertility is the result of a service-related injury or illness. However, the benefit is limited to married couples who are able to provide their own eggs and sperm.
Funding for the program must be re-approved each year.
Sen. Patty Murray, D-Wash., who championed this initial benefit, has fought for years to make the program permanent and expand it. She has introduced additional measures during each Congress, as doing so would relax what she calls "unnecessarily restrictive" eligibility requirements for the current benefit.
"It's very hard to help our veterans provide for the families they deserve. You have served our country. They were hurt, which left them with limited ability to have children — a dream that people should have, including our veterans," Murray said in a June 23, 2021 hearing on her bill, the Veteran Families Health Services Act.
Conservative groups have opposed the proposals because IVF can result in the creation of multiple embryos that can be destroyed when a veteran no longer needs or wants them. Organizations like the Family Research Council, a conservative Christian group, advocate funding IVF only if embryos are not destroyed.
No Republican has supported Murray's legislation or any similar bill introduced in the House by Rep. Rick Larsen, D-Wash.
The VA Fertility Benefits program is distinct from the Department of Defense program, which offers fertility resources such as hormone treatments, diagnostic services, corrective surgery for infertility related to a physical condition, and erectile dysfunction care, but only pays for IVF in certain circumstances, provided that it is paid to service members, who have suffered genitourinary trauma or have had cancer treatments that may result in infertility, including cryopreservation and storage until procedures can be performed.
IVF is available at six military treatment facilities at a per-cycle cost for service members and their families whose infertility is not directly related to a combat injury.
The VA's budget also includes dropping copayments for veterans for birth control prescriptions — a less controversial move that would bring the department's pharmacy benefits program into line with the Affordable Care Act.
Under the Affordable Care Act, often referred to as "Obamacare," major insurers other than religious employers or nonprofit religious organizations are required to cover birth control and counseling with no co-payment or co-insurance.
Federal healthcare providers were exempt from the provisions of the Affordable Care Act. In a call with reporters on March 28 about the VA budget, officials said the move would recognize birth control as "more of a general health care measure than a specific prescription."
This would affect veterans who are currently required to make co-payments for each prescription as part of their eligibility criteria.
"Because we are [the] Because our co-payment requirements are set by law, we need legal authority to exempt a specific subset of drugs from the government in this way," said Laura Duke, chief financial officer of the Veterans Health Administration.
According to the budget, the proposal would cost the VA $24 million in the first year and $328 million over 10 years.
Also in the VA budget proposal on veterans' health, the department asked for legislation that would allow it to provide physical and mental health care related to military sexual trauma to former members of the National Guard or Reserves who never served on active duty Therefore, they are currently not eligible for medical care from the VA.
The legislation, which the VA expects to cost nearly $30 million in the first five years, would provide sexual assault-related treatment for former members of the Guard and Reserve who were discharged under any conditions except for those who received a dishonorable discharge or were dismissed from service as the result of a court-martial.
The VA has requested a record $301 billion for its budget, second only to the Department of Defense among federal agencies for discretionary funding. The administration's proposal is currently being considered by the House and Senate Approval and Appropriations Subcommittees, which are responsible for setting policy and funding the VA. Each will draft legislation that will ultimately determine the outcome of the measures included in President Joe Biden's fiscal year 2023 budget.
In one of the first hearings on the proposed budget, lawmakers on both sides of the aisle urged VA Secretary Denis McDonough to justify the spending, with the Democratic chair and senior Republican on the budget subcommittee that oversees the VA raising concerns about funding patterns.
"What's the long-term plan here? It is clear that we have a duty to provide healthcare to our veterans, and we all do it with passion. … But if we're to see those exponential increases year after year, we need to build a consensus to adjust allocation so other discretionary priorities aren't compromised, including non-healthcare priorities within VA," MPs Chairwoman Debbie Wasserman said Schultz, D-Fla.
"When we met last April to discuss the VA's fiscal 2022 budget proposal," Rep. John Carter, R-Texas, told McDonough, "I noticed that the 82% increase wasn't the largest it's seen I had seen but still pretty big. This year, a 99.7% increase for discretionary programs along with the $7.5 billion for the second bite is another notable demand. Year after year you've made increases that may have been significant. We have to look at the big picture."
— Patricia Kime can be reached at [email protected] Follow her on Twitter @patriciakime.
Related: Wounded troops should get more fertility benefits through the VA, lawmakers say
Read complete message
© Copyright 2022 Military.com. All rights reserved. This material may not be published, broadcast, transcribed or redistributed.