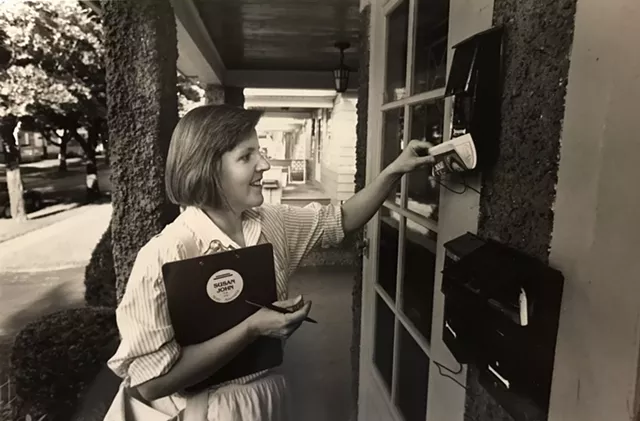 Susan John, campaigner for women and work in the congregation, dies aged 64 | news
Susan John, who represented Rochester in the New York Congregation for 20 years and was a leading advocate of the state legislature for the rights of women and workers, died Monday. She was 64.
She had cancer and died in Florida, where friends and former colleagues say she had lived in Englewood, south of Sarasota on the Gulf Coast for the past 10 years.
John was 32 when she left a partner lane at the law firm that became Phillips Lytle in 1990 to run for Democrat for the 131st Congregation District. She prevailed in a tight and vicious primary against the seven-year-old incumbent Gary Proud, who described her as "ultra-liberal" and "unequivocal", and won the general election.
After all, she would be re-elected nine times, establishing herself as an unwavering voice for women and family-related issues, before turning down in 2010 for an eleventh term.
"Susan has always been a person who cared about women having their own voice, and of course this was a time when women were not running for elected positions in the current number," said her former chief of staff, Chris Christopher. "Susan believed that women deserved to have their voices raised, and I think she cared very much that not only women had their own voices, but all of those who needed someone to get their message across reinforced. "
During her time in Albany, John worked successfully to fund domestic violence shelter, breast cancer awareness and education, rape crisis centers, and teen pregnancy prevention programs. She also helped set up the nationwide Amber Alert System, which connected police with the media to quickly spread the word about children feared they might be missing or kidnapped.
In the early 2000s, when Monroe County ran out of funding for childcare, John fought for an injection of cash that allowed the county to fend off proposed cuts to its subsidies and was later an integral part of the passage of laws that allowed the counties in across the region eased New York into access to childcare funds.
"People drove them," said her former legislative adviser Allan Richards, who now works with John's successor on the state legislature, Rep. Harry Bronson. "Make sure those who had the least were the ones she was looking for. She was a very clever and generous woman. "
Born in Chicago on November 20, 1957, John graduated from Syracuse University College of Law and practiced commercial and business law before moving into politics. She was married to Paul Ferber, a political science professor at Rochester Institute of Technology, but they later divorced.
John served for many years as chairman of the congregation's working committee and at times chaired its committee on alcoholism and substance abuse. Her stature on the latter was compromised just a few months after her tenure when she pleaded guilty to disabled driving in March 1997 after being stopped by police in a suburb of Albany.
"This will give me additional insights into the problem of alcohol consumption and driving, and I believe it will enable me to do my work even more effectively," she was quoted as saying in her plea.
The incident turned out to be a minor setback for her political career, which would last for another 13 years.
John moved to Florida shortly after retiring from politics to be closer to her mother, friends and former coworkers said. Her mother preceded her in death.
Christopher, her former chief of staff, remembered John as strong-willed but not stubborn.
"She's never been one to go along with the crowd," said Christopher. "If the prevailing wisdom was this broad road everyone was walking, Susan was on her side, giving her brilliance and new perspectives on things.
"Not only did she go, she went her own way."
David Andreatta is the editor of CITY. He can be reached at [email protected].