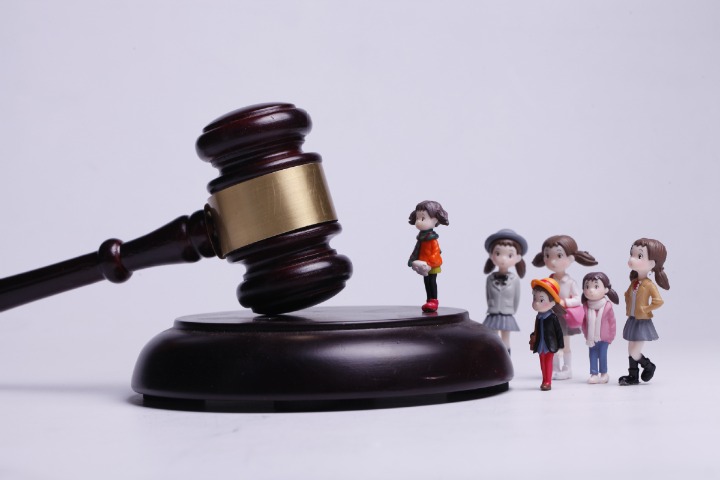 Revisions to the draft target of trafficking in women
Lawmakers will consider a draft that would require authorities down to village committee level to timely report suspected cases of kidnapping and trafficking in women to public security organs, China's top legislature said Thursday.
The draft revision of the Law on the Protection of Women's Rights and Interests aims to quickly uncover and prevent violations. It will be submitted to the Standing Committee of the National People's Congress for the second review during the session in Beijing from Monday to Wednesday.
Household and marriage registration departments, township governments, neighborhood offices, township committees and village committees are required to promptly report suspected cases of kidnapping, human trafficking or kidnapping to public security organs, said Zang Tiewei, spokesman for the Legislative Affairs Commission of the NPC Standing Committee.
The public security organs will investigate and deal with the cases in a timely manner, he said.
Zang said the women's associations will take measures to step up investigations into such crimes, and when suspected illegal acts are discovered, they will promptly report to public security organs and help rescue work.
Accommodation operators will accurately register guests' information and timely report such violations, he said.
"Recently, serious violations of women's rights and interests have been uncovered in certain places, showing weaknesses in grassroots management and protection," Zang said.
In February, video footage of a mentally ill mother of eight with an iron chain around her neck shocked the public and sparked a nationwide discussion about human trafficking and the protection of women's rights.
An investigation revealed that the woman in Fengxian County in Xuzhou, Jiangsu Province, was from Yagu Village in Yunnan Province and was a victim of human trafficking.
Lawmakers and advisers lobbied for tougher punishment for human trafficking crimes and protections for women at the two sessions, the annual meetings of China's top legislature and policy advisory body in March.
Measures under the revised draft will further clarify the responsibilities of relevant authorities, Zang said, adding that they will "help promptly expose criminal acts that violate women's legitimate rights and interests and investigate such crimes in accordance with." to fight strictly against the law".
The draft revisions also contain provisions to combat gender discrimination. Relevant regulations will be added to clarify that employers cannot prevent female employees from being promoted and obtaining professional and technical titles and positions on the basis of marriage, pregnancy, maternity leave, breastfeeding and other circumstances, Zang said.
When hiring school staff, the draft also clarifies that schools should check if they have any prior convictions for sexual assault and harassment, and individuals with such records may not be hired, he said.
From December 24 to January 22, the Commission published the revised draft online to solicit opinions. About 85,200 Internet users forwarded about 423,700 suggestions. The data showed that nearly 300 letters were received from the public.
"(Networkers) think the draft revisions focus on important issues in protecting women's rights and interests and address social concerns," Zang said, adding that improvements to the draft were made based on public opinion.
According to the agenda of the standing committee meeting, lawmakers will also consider bills on futures and derivatives and black earth protection. They advise on draft revisions to the Vocational Training Act and the Physical Culture and Sports Act.