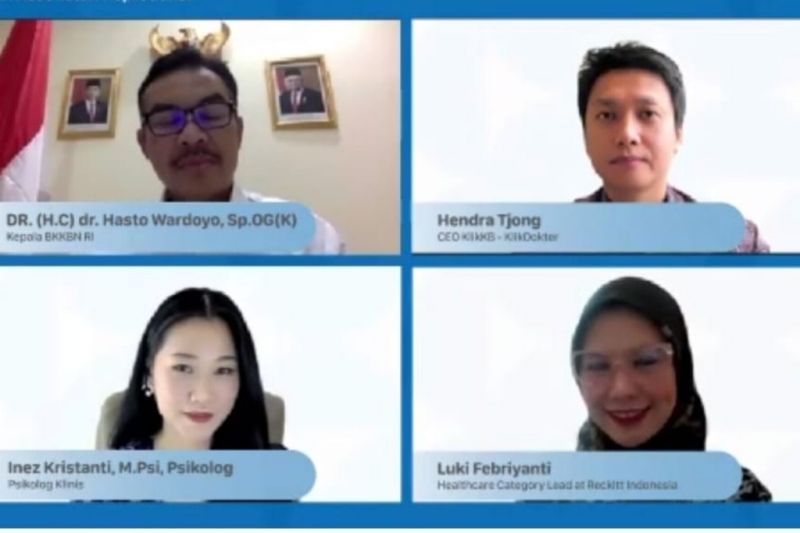 Planning pregnancies can help prevent childhood stunting: BKKBN
Therefore, couples of childbearing age are expected to be adequately informed and socialized about the benefits and importance of family planning
Jakarta (ANTARA) – Head of the National Authority for Population and Family Planning (BKKBN), Dr. Hasto Wardoyo, Sp.OG. (K), has advised all families to plan pregnancies carefully to prevent childhood stunting.
Families must plan pregnancies using the Family Planning (KB) program, he said. This would allow parents to give children space and time to prepare to meet their needs from pregnancy through birth, including children's nutritional needs, he explained.
"As such, couples of childbearing age are expected to receive adequate information and socialization about the benefits and importance of family planning," Wardoyo said.
Contraceptive use is expected to reduce the number of unintended pregnancies (KTD), maternal mortality rate (AKI) and infant mortality rate (IMR), he stressed.
Family planning using modern contraceptives is important to prevent stunting in the country's next generation, Wardoyo added.
Related News: BKKBN-DKT targets contraceptive use in 70% of mothers after childbirth
Over the past five years, the proportion of married women not participating in the AI ​​program has steadily increased, he noted. Based on data from the National Socio-Economic Survey (Susenas), the number of married women not participating in the family planning program rose to 31.2 percent, or 15.37 million women, in 2020, he said.
One reason is the COVID-19 pandemic, which has led to a decline in the capacity of reproductive health services in various health facilities, thereby limiting public access to contraceptives, he added.
This phenomenon has increased the number of unwanted pregnancies in the country, he said. According to BKKBN, the impact of the decline in the use of contraceptives in the population in the form of 500,000 unwanted pregnancies in 2021, he added.
A high rate of unwanted pregnancies can pose multiple risks for women, including depression, anxiety disorders, high levels of stress and infant growth retardation, he said. It can also contribute to maternal and infant mortality, he added.
Meanwhile, the President of the Indonesian Association of Midwives (IBI), Dr. Emi Nurjasmi, M.Kes, the pandemic has contributed significantly to the decline in contraceptive use, thereby increasing the number of pregnancies and births.
Related News: BKKBN works with Ministry of Education to eliminate stunting
This has created new challenges for midwives to provide qualified information and advice on the importance of family planning for couples of childbearing age, she added.
"Together with other relevant stakeholders, we will continue to promote the implementation of the family planning program. In this case, condoms can be a contraceptive option that can be used by couples of childbearing age," she informed.


Related News: MotoGP pre-season test a boost for national tourism: expert
Related News: The minister highlights three keys to the recovery of the tourism sector