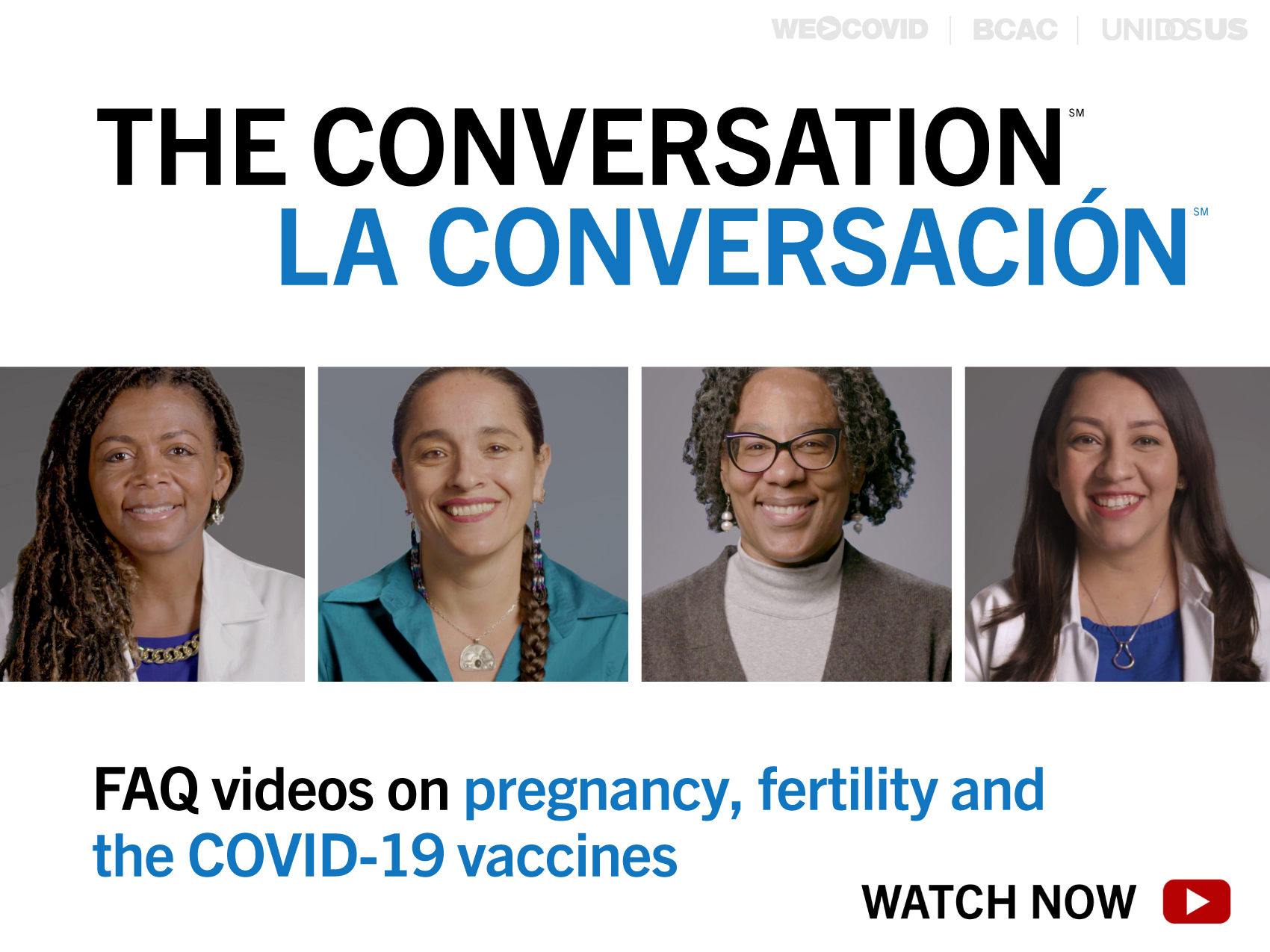 New FAQ video series focuses on pregnancy, fertility and the COVID-19 vaccines
January 27, 2022 – Obstetricians, a nurse and a midwife confirm the safety of the COVID-19 vaccine during pregnancy and debunk myths about the effects on fertility in Over 40 new FAQ videos from THE CONVERSATION / LA CONVERSACIÓN. This part of the campaign is produced by the KFF (Kaiser Family Foundation) as part of their Bigger than COVID public information response and is funded by the California Health Care Foundation.
According to the Centers for Disease Control and Prevention (CDC), about one in three currently pregnant women is not fully vaccinated, a higher rate than in the general population. earlier dates pointed out that black and Hispanic pregnant women were less likely to have received a COVID-19 vaccine. These lower vaccination rates have raised concerns as pregnant women may face more vaccinations serious complications when infected with COVID-19, including an increased risk of miscarriage and premature birth.
"Pregnancy is a condition that, by definition, causes immunosuppression. Your immune system is already working overtime to protect you and your baby," explains Dr. Monica McLemore, PhD, RN, MPH, in a video for the series.
dr Joia Crear-Perry, OB-GYN, Dr. Yolanda Tinajero, OB-GYN and Eva Goodfriend-Reaño, CNM, along with Dr. McLemore addressed a number of common questions and concerns about the COVID-19 vaccines before, during and after vaccination in the new series, including: Is it safe in the first trimester? Will my antibodies be transferred to my baby? Can I get it if I'm breastfeeding? Will the vaccine affect future fertility? and more.

"A lack of information and explicit misinformation about the safety of COVID-19 vaccines in pregnancy and fertility has deterred many from receiving this protection for themselves and their baby," said Tina Hoff, senior vice president for KFF and director of KFF's Social Impact Media program.
According to a recent KFF COVID-19 Vaccine Monitor, just 39 percent of those who were pregnant or planning to become pregnant said they were either "very confident" or "somewhat confident" that the COVID-19 vaccines are safe for pregnant women. Almost six in ten (57%) say they are not confident the vaccines are safe for them. Healthcare workers are consistently cited as the most trusted to answer questions about the COVID-19 vaccines.
The CDC, the American College of Obstetricians and Gynecologists, the American College of Nurse-Midwives and the American Association of Nurse Practitioners, and other leading medical groups strongly recommend the COVID-19 vaccine for those who are currently pregnant, recently pregnant, or consider pregnancy.
The message also reinforces the benefits of vaccination to protect the newborn. like dr Crear-Perry, who founded and runs the National Birth Equity Collaborative, says in a video, "If you're thinking about what I can do to be really healthy because I'm nervous about COVID and I want my baby to be healthy and I want to be healthy, the vaccine is the best way for you and your baby to stay healthy."
THE CONVERSATION / LA CONVERSACIÓN offers a spacious living video library of 300+ FAQ videos featuring a diverse community of 30+ healthcare professionals of color. Since launching in March 2021, the campaign has garnered more than 118 million video views across digital/social media, totaling more than 62 million minutes viewed, with a focus on Black and Latino communities. It is presented with the Black Coalition Against COVID and Unidos US. The American Academy of Pediatrics is partnering with a series for parents and caregivers about the COVID-19 vaccine and children. YouTube, Google, Facebook, Twitter and Pinterest are promoting messaging on their platforms as part of an effort to amplify trusted voices on COVID-19.
All content is royalty-free and designed to be shared on social media and easily embedded on websites. ONE Community Toolkit provides additional graphics and promotions to extend the reach of the message.
You can find more information about THE CONVERSATION / LA CONVERSACIÓN at:
www.BetweenUsAboutUs.org l www.EntreNosotrosSobreNosotros.org
www.youtube.com/GreaterThanCOVID
KFF (Kaiser Family Foundation) is a national non-profit organization that is a leader in health policy analysis and survey, journalism and social impact media. No affiliation with Kaiser Permanente. Visit the COVID-19 Vaccine Monitor Dashboard, the Racial Justice and Health topic page and KHN.
Bigger than COVID is a public information initiative by KFF to help individuals take responsibility for their health during the evolving COVID-19 public health crisis. Tailored media messages and community tools address vaccine information needs.