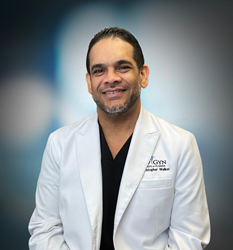 dr Christopher Walker establishes the Hazel Walker Foundation to help women access free healthcare and education
"Women play a critical role in our society, and prioritizing women's health on a global scale will improve the overall well-being of families and communities everywhere."

ORLANDO, Fla. (PRWEB)
August 04, 2022
The Hazel Walker Foundation (HWF), a non-profit organization providing free reproductive health services, information and education to women, has announced the launch of its new website. The platform will serve as an information hub for women in need of free reproductive health services and resources. founder dr Christopher Walker founded the organization to give back to the community and support underserved and minority women.
The Hazel Walker Foundation offers free oral contraceptives and reconstructive surgery procedures to treat female genital mutilation (FGM). These services are part of the organization's commitment to advance the right to universal sexual and reproductive health care for all women. Women can request more information or arrange a consultation via the website. Birth control pills are available through the foundation's partner provider, UroGyn Specialists of Florida, in downtown Orlando.
"Women play a critical role in our society, and prioritizing women's health on a global scale will improve the overall well-being of families and communities everywhere," says Dr. Christopher Walker, Founder of the Hazel Walker Foundation. "Our goal is to help disadvantaged women, especially victims of domestic violence, sexual assault and genital mutilation, get the quality and affordable care they deserve."
Founded earlier this year, HWF will tailor its programs and services around three core initiatives – improving access to free health care, improving patient outcomes and empowering women to take control of their reproductive health. The online platform aims to help women make informed decisions about their reproductive and sexual well-being. Site visitors can access instructional videos, articles, and links to local and national resources such as medical facilities, public health services, and more.
About the Hazel Walker Foundation

Hazel Walker Foundation, Inc. (HWF) is a nonprofit organization that supports women's reproductive health by providing free services and educational resources. dr Christopher Walker, a humanitarian and nationally recognized urogynecologist and surgeon, founded the organization in honor of his mother, Hazel Walker. A legacy of her motherly love, support and strong Christian values, the nonprofit organization will advance the right to universal sexual and reproductive health care for all women. To learn more, visit http://www.hazelwalkerfoundation.org/.
Share the article on social media or via email: