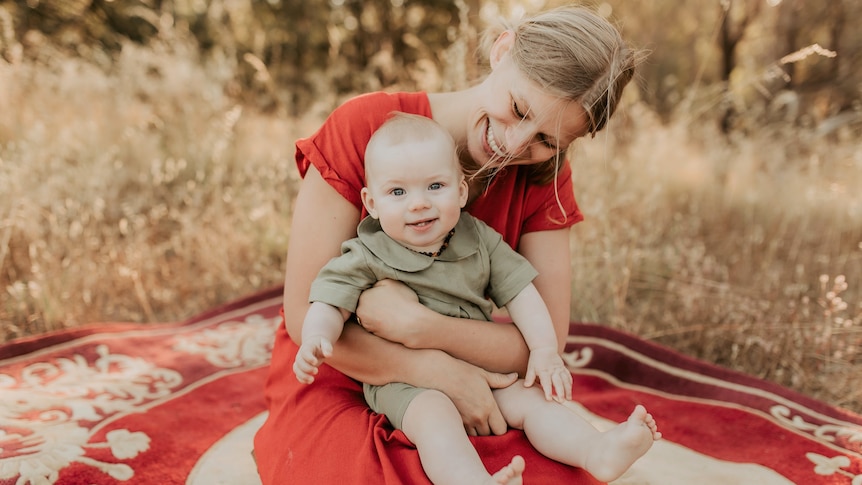 Calls for more support for perinatal mental health as parents are neglected to the point of crisis
As Melissa Hocking looked down at her newborn son, struggling to feel joy or even connection, she felt utterly alone.
She had first sounded the alarm in the final months of her pregnancy when she saw a psychiatrist when her depression reached alarming proportions.
He urged her to take as many precautions as possible right after the birth.
"He said, 'You have all the warning signs of postnatal depression,'" Melissa said.
Baby Ollie was born in March last year.
The Shepparton mother took immediate action and registered with every perinatal mental health service available in her area.
But the weeks passed.
Lack of perinatal mental health care
According to Perinatal Anxiety and Depression Australia (PANDA), up to one in five new mothers and up to one in ten new fathers are affected by postnatal mental illness.
It is feared this has only gotten worse during the pandemic, as PANDA reports a 42 percent increase in calls to its hotline since 2019.
The organization anticipates that this high demand will only continue.
New data from the Center of Perinatal Excellence (COPE) shows that three out of four women struggling with anxiety or depression in the perinatal period do not seek help until they reach a crisis point.
But while shame and stigma can play a big part, many parents claim there's a bigger issue — access to care.
Victorian doula and registered midwife Steffie Watts says she saw this on the spot.
"I don't think the problem is that women don't have access to the ministry, I think the problem is in the ministry itself," she said.
"It has to reach a crisis point"
Fearing for the safety of her newborn son – and for herself – Melissa repeatedly tried to get herself admitted to the hospital, but was told home was the best place.
"I've even had several maternal pediatric nurses frantically calling to find someone to find something," she said.
Melissa says the lack of perinatal mental health care in her area is "an unspoken problem."
"I don't know of any mother who has given birth in the last five years who hasn't needed some kind of mental support," she said.
"From what I've seen, none of them have been able to access it.
"In order to access help, it has to get to a crisis point."
"I fell between the cracks"
Shepparton's Brittany Barnard got pregnant in 2019.
With a history of anxiety, depression, and an eating disorder, she was acutely aware of her own vulnerabilities.
Knowing that Brittany would need special support, her care team referred her to the local perinatal emotional health program.
"But they felt I was inappropriate and too risky to participate," she said.
After a traumatic birth, Brittany struggled with intrusive thoughts about harming her baby – a common symptom of postnatal mental illnesses from which she has since recovered.
"There was definitely shame and stigma," she said.
"But only because nobody talks about it and there are no services to talk about."
Need for more mother-child units
COPE's Ariane Beeston said there was an urgent need for more mother-baby units across Australia that would provide comprehensive care without separating parent and child.
The center understands there are around 10 public mother-child units across Australia.
"They are very rare," said Mrs. Beeston.
She sought such a service 10 years ago in New South Wales after being diagnosed with postnatal psychosis – a rare condition that affects more than one in 1000 women.
"I had started experiencing strong delusions," she said.
A decade later, Ms Beeston has recovered – and she wants other parents to get the same care.
Supply bottlenecks in regional areas
It is an ongoing problem in regional areas where parents have to travel hours to access centers.
Shepparton is just one of the communities crying out for mother-child unity that local state assemblyman Suzanna Sheed has been fighting for since the late '90s.
In October 2020, the Victorian Government announced the establishment of seven early childhood education centers – formerly known as mother and baby units – across the state.
But Shepparton was expelled.
"I really hope that this state budget will be announced."
Partners are also affected
Parents said there is also a big gap in support for fathers and partners who may also be struggling.
Melissa experienced this firsthand – her husband Nathan struggled with postnatal depression after the birth of their son Ollie.
"Treatment should involve the whole family," she said.
COPE says when mothers experience postnatal mental illness, their partner is at increased risk.
"So new dads are trying to find their way around being a father and at the same time also having to be carers when they have serious mental illnesses," Ms Beeston said.
"It can be difficult for fathers to speak up, but it's really important that they do."
More focus on prevention needed
In addition to more treatment, a stronger focus on early prevention is required.
Ms Watts said this should include more time for prenatal appointments and less intervention in labor and delivery.
She also believed that too many babies were being placed unnecessarily in special care centers, increasing stress for parents and causing a breakup at the key-binding stage.
"It just adds to everything," she said.
Ms Beeston said social media also emerged as a key driver of shame and stigma, discouraging many parents from seeking help.
"They can end up feeling like a failure because they're not meeting the expectations of parenthood," she said.
"Many can fear that others will find out that they are not perfect and that they don't have everything together.
"But there are no perfect parents."
Mental health in your inbox
Get a selection of the best mental health content from across the ABC by subscribing to our monthly newsletter